We Are Always Here to Help Your World Better
We Are Always Here to Help Your World Better
Contact & Operation Hours:
How do I contact Melofair?
Our dedicated team of specialists is here to help you with everything that you need.
Phone: (608)389-3999, available hours: 8:00 - 11:30, 12:30 - 21:00, Eastern Time
Email: customer@melofair.com
Why should I buy Melofair hearing aids?
At only a fraction of a traditional expensive hearing aids' price, Melofair delivers exceptional hearing experience for people sufferring from mild to moderate hearing loss. We are a pround American company registered in Delaware and we are dedicated to serve our hardworking citizens with hearing loss to regain their hearing, rebuild their confidence, reignite their hope and re-embrace the society.
Are Melofair hearing aids FDA registered?
Yes, Melofair hearing aids are FDA registered as Class I medical devices, meaning we are the real heairng aids, as opposed to PSAP devices or amplifiers. Furthermore, we also meet even more rigid standard of European Union. We are always pursuing the highest standard to give you most valuable hearing experience.
Are Melofair devices "real" hearing aids?
All of our devices are real hearing aids, with 6 different sound modes to fit variable individual hearing loss case.
Why does Melofair not have physical stores where I can try before buying?
In an effort to cut out the middleman and save you money, we have eliminated all unnecessary costs. We does not want to transfer the bloody rent costs to you. Fully online operation allows us to pass on the savings to you and sell quality devices for a fraction of the price.
Why presale order is cheaper than the normal order?
We are dedicated to provide you better quality devices while save your money as much as possible. Presale can give us better understanding on our products' demand and we can schedule our supply chain better. Thus, we can pass on the savings to you for your kind patience and understanding.
Do I need a prescription or hearing test in order to purchase Melofair?
You don't need a prescription or even an audiogram (hearing test) to purchase our hearing aids. Our technology allows you to pick 6 different volume settings so you can find the best combination of sound for your ears. Also, we do provide free online hearing test in case you need to identify whether you have a mild or moderate hearing loss.
I wear eyeglasses/masks, can I still use Melofair hearing aids?
Yes you can. Melofair hearing aids are designed to fit well with eyeglasses and masks.
How will I know if the device will fit my ear size?
Each device is sent with 6 ear-domes of 3 different sizes (2 for each size), over 95% of people can find a perfect fitting ear-dome.
How do I know whether Melofair is my best fit?
Our hearing aid specialists are always here to help you. If you have any questions or are still hesitated, call us at: (608)389-3999 during our operation hour or simply send an email to customer@melofair.com at any time.
How long does shipping take?
For normal orders, shipping within the US takes 1-3 business days to fulfill, and 3-10 business days to be delivered to your house.
For presale orders, we will fulfill your order according on the predetermined date within 3 business days and it will take 3-10 business days to be delivered to your house.
We are shipping orders from our logistic center, which is in California.
We are shipping to all US States and Territories.
How to Use Melofair hearing aids? 
Melofair is easy to use with one button operation:
Long press the button 3 seconds to turn on the hearing aids. The hearing aids will start with low volume mode. Short press the button to adjust volume and there are 6 volume modes in total. To turn off, also long press the button for 3 seconds.
Do you have quick operation guide?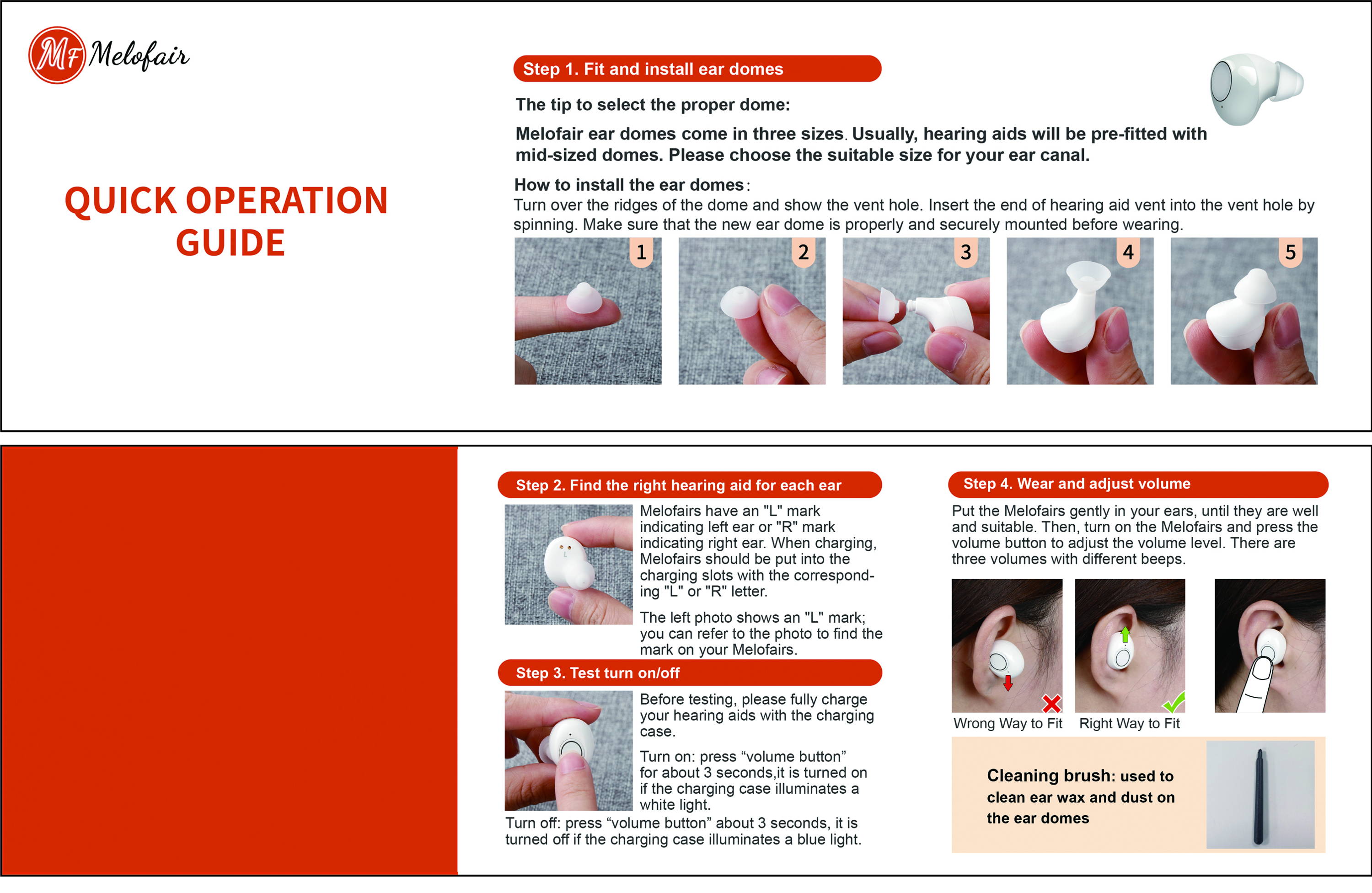 How should I adapt to the new hearing aids?
Scientific research shows that it usually takes 21 days for your brain to adapt to the new hearing aids. There are some tips for better adaptation:
Start by wearing your hearing aids at home or in other quiet listening environments. Focus on having one-on-one conversations.

Don't play with the volume too much, start with low volume mode.

At first, only wear them for a few hours a day. If you need to, it's okay to only wear your new devices in comfortable situations and environments for the first few days. Then gradually wear for longer period and in more challenging environment.
I can hear whistle/feedback sound. What causes the feedback sound/whistle?
It is normal if feedback/whistling occurs while incorrect operation. Please operate the hearing device strictly accordingly to below user tips in case to cause any feedback feedback/whistling:
You may not have put the ear dome in properly – push it gently to check.

If the ear dome is not inserted well into ear canal or air leaks at the ear dome edges, when the device is close to hand or wall, a certain amount of sound will go back into the microphone. The sound is re-amplified which causes that annoying whistle.

You may not have put the hearing device in properly. Refer to the picture below to see the correct position:

This could be 'feedback', which happens when sound from your hearing aid leaks out and gets picked up by its microphone.

You may have excess wax in your ears – check your ears and get your ear cleaned.

Check whether the volume is too high and adjust volume by short press the button.
What should I do if the hearing aid does not seem to be working?
Check that the hearing aid is in full charge or not.

Charging the hearing aid.

Take your hearing aid out and check that the hearing aid is not blocked with wax.
What should I do if the hearing aid does not be charged normally?
You may not have put the hearing aid into charging case in properly. If it is the left ear, it can only be placed in the charging hold on the left, if it is the right ear, it can only be placed in the charging hold on the right.

Clean the charging pin for a better connection.

Slightly adjust the position of hearing aids for a perfect connection.

The projector light turns blue when it is connected well; the light turns white when it is fully charged.
What happens if I am not satisfied with my hearing aids?
If at any time, within the first 30 days of use you're not happy with your Melofair hearing aids, just send it back in original condition and we'll send you a full refund. You should ship the product back at your own expense.
You can also require a free replacement using the tied free MeloCare during the first 6 month of your purchase, however, you give up right of refund of the original device if you apply replacement during the first 30 days of use.
How do I start a return/replace process?
Please contact our Customer Service at customer@melofair.com or simply give us a call at (608) 389-3999 and we will help you through starting your return/replace process.
MeloCare, Accessories & Gift Cards:
Why should I consider MeloCare?
Hearing aids are small and delicate devices. Research have revealed that 47% customers of hearing aids once experienced loss of at least one of the pair within 2 years after their purchase. MeloCare can help you against such loss risks for as low as $199/year (equal to only $0.5/day) with a free replacement for ANY reason during the covering period of MeloCare.
We gift you a 6-month Free MeloCare tied to your device. If you want to buy additional MeloCare, you are always welcomed to simply add it to cart.
We sell eardomes as you may want to get new pairs of eardomes instead of cleaning earwax. Check it on "Shop Accessories".
We have gift cards with 4 different values: $50, $100, $200 and $500. You can check it on "Shop Accessories".